Wimbledon is now protected........Rain or shine, Highgrade Ultimate Protection for Wimbledon
The All England Club is one of the most famous private members club in the World, opening its doors every year and hosting Wimbledon, to the Worlds greatest tennis stars.
The club recently installed new carpets throughout the clubhouse, Highgrade were instructed to protect the investment of the new carpets and also the health of the carpets and visitors of members, staff and visitors.
Following treatment of the carpets independent testing was carried out which proved the Highgrade treated carpet had removed over 99.95% of any trace of Ecoli and also MRSA. The antimicrobial technology used by Highgrade was an almost immediate success, the results were taken from tests taken only 24 hours after the initial treatment.
For more information on how Highgrade Ultimate protection can help you, please contact Highgrade today.
Download our brochure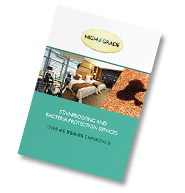 Customer case studies
Our Location
Unit 6,
Lantern Commercial Centre,
London Road,
Flamstead,
Hertfordshire,
AL3 8HG