Bacteria Free Casino's in Central London
Napoleons Casino based in Leicester Square, is one of London's most popular casino venues and has been established for over 25 years.
They are open for business 24 hours a day and need to maintain the health and cleanliness throughout the business day. This is where Highgrade were able to assist.
Napoleons Casino instructed Highgrade to apply their Ultimate Protection which stain proofs carpet and upholstery and prevents odours and deterioration in the carpets. In addition the Ultimate Protection also reduces bacteria in the treated areas by a minimum of 95%. Applying the Highgrade Ultimate Protection it supports cleaning regimes and provides an additional level of protection against microbial growth on carpets.
Napoleons Casino is the first Casino in London to protect their carpets and upholstery against Bacteria that Highgrade are aware of.
For more information, please contact Highgrade.
Download our brochure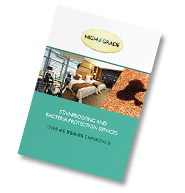 Customer case studies
Our Location
Unit 6,
Lantern Commercial Centre,
London Road,
Flamstead,
Hertfordshire,
AL3 8HG