Not a quick fix - a long term solution providing proven protection against harmful bacteria
Highgrade Carpet and Upholstery Care have partnered with BioCote the global leaders in antimicrobial technology to offer you a unique opportunity to have your carpets and soft furnishings protected to support your constant batter against bacteria.
Whilst regular cleaning is effective and necessary, it is impossible to clean a surface every minute of every day. Immediately cleaning stops bacteria can begin to grow, with some bacteria having the ability to double evy twenty minutes. As bacteria multiplies so does the risk of cross contamination, illness and infection.
With more than 40 years experience maintaining carpets and upholstery, Highgrade are now a to provide a cost effective and proactive solution to your antimicrobial hygiene programme, offering advanced protection against cross contamination. Carpets protected by Highgrade have been subjected to independant laboratory tests which have proven that this treatment reduces the level of bateria by up to 99.99%
Highgrade can apply BioCote silver antimicrobial technology to virtually any new or existing carpets and fabrics to help fight against the growth of bacteria and create an antimicrobial protection which will reduce the risk of future contamination and subsequently produce a cleaner, safer and more hygienic environment. The advance treatment remains active for 2 to 5 years.
Download our brochure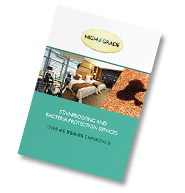 Customer case studies
Our Location
Unit 6,
Lantern Commercial Centre,
London Road,
Flamstead,
Hertfordshire,
AL3 8HG