Brentford Football Club, based in West London and rivals to Chelsea FC, have scored a memorable goal in the fight against Bacteria.
Based in Brentford in the London Borough of Hounslow, Brentford have become the first football club in the UK to be able to allow their guests, staff and players to enjoy post match entertainment in a Bacteria Free environment.
Brentford pay great attention to the health and wellbeing of their guests and staff and in 2012 decided to take extra precaution in the fight against Bacteria. Brentford instructed Highgrade Cleaning to implement their Ultimate Protection to their carpets and upholstery. Highgrade Ultimate Protection combines the finest cleaning of carpets with antimicrobial technology which is proven to protect and stain protect and also achieving a 95% reduction in Bacteria.
It is well publicised the salary that Professional Footballers in the UK earn, Brentford have taken a step further in protection their investments.
For more information on Highgrade Ultimate Protection, Bacteria Protection on Professional Carpet and Upholstery services, contact Highgrade today.
Download our brochure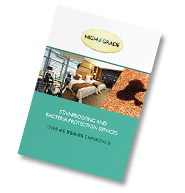 Customer case studies
Our Location
Unit 6,
Lantern Commercial Centre,
London Road,
Flamstead,
Hertfordshire,
AL3 8HG